Dirigible Studio Mission 2019: Herd Wisconsin
---
How we leveraged our design and web-building know-how to help power vaccination education in Wisconsin
On Friday, November 22, the entire Dirigible team set up shop around one of our conference tables, surrounded by Greenbush donuts, revolving pots of coffee, a sea of laptops, and eventually, slices of "Drunken Ravioli" pizza from the new Garver Feed Mill location of Ian's Pizza for our very first "Mission."*
Mission, Possible
The mission? To develop a logo, a brand guide, and create a fully functional website for a local non-profit, in the space of one 8-hour workday.
The target? Herd Wisconsin, an organization founded to be a reliable resource for accurate and current information for immunizations, with the aim of encouraging immunization against vaccine-preventable diseases, and reaching "herd immunity" levels of immunization in Wisconsin.
What makes Herd Wisconsin special?
Ryan Bender, PharmD, the clinical director at Forward Pharmacy, developed the idea for Herd Wisconsin after attending a community meeting for the recent Wisconsin legislation on vaccination. At the meeting, Ryan was struck by the number of misconceptions over both the risks and the importance of vaccination. He witnessed the level of anxiety that many folks, especially parents, feel in trying to wade through the information––and misinformation––that exists about immunization. That experience drove him to launch a project to reach those folks who may be on the fence about vaccination, who are seeking more reliable information or who have questions that they may feel self-conscious about asking.
Ryan told us about his experiences as a pharmacist, the obstacles he's identified to effective vaccine education and immunization, and the core messages that, to his mind, most crucially address those obstacles for people who are asking questions about vaccination.

We took it and ran with it
Once we heard a bit about the overall project, we got to work. We worked with Ryan to identify the target audience for the website, the best language and tone to address that audience, and the most effective ways to engage skeptical or questioning readers on what might be considered a heated topic.
The goal of the site is to address what Ryan called "immunization hesitancy." In other words, the information is directed at all the folks out there who aren't decidedly "pro-vaccine" or "anti-vaccine," but who may just be looking at all the different sources of information out there, and wondering who to believe.

Our Wisconsin Community Immunity: Designing the Logo
We started by sketching out a few logo ideas based on the notion of "herd immunity." (That's the "Herd" in "Herd Wisconsin.")
Of the three logo options we worked up, one in particular stood out to Ryan. We pulled a common visual image meant to represent the concept of "herd immunity", and designed a version of our own in the shape of the map of Wisconsin.
This idea shapes so powerfully what the mission of Herd Wisconsin is––a Wisconsin-centered mission to get vaccine numbers in Wisconsin high enough that herd immunity is achieved.
In the classic illustration of herd immunity, the red or yellow dots stand for folks who have compromised immune systems and for that reason can't get vaccinated themselves. They are surrounded by a much larger number of blue dots, which stand for people who are able to get vaccinated. If there are a high enough percentage of blue dots, the vulnerable red or yellow dots will be kept safe by the community at large, whose immunization protects those more vulnerable members.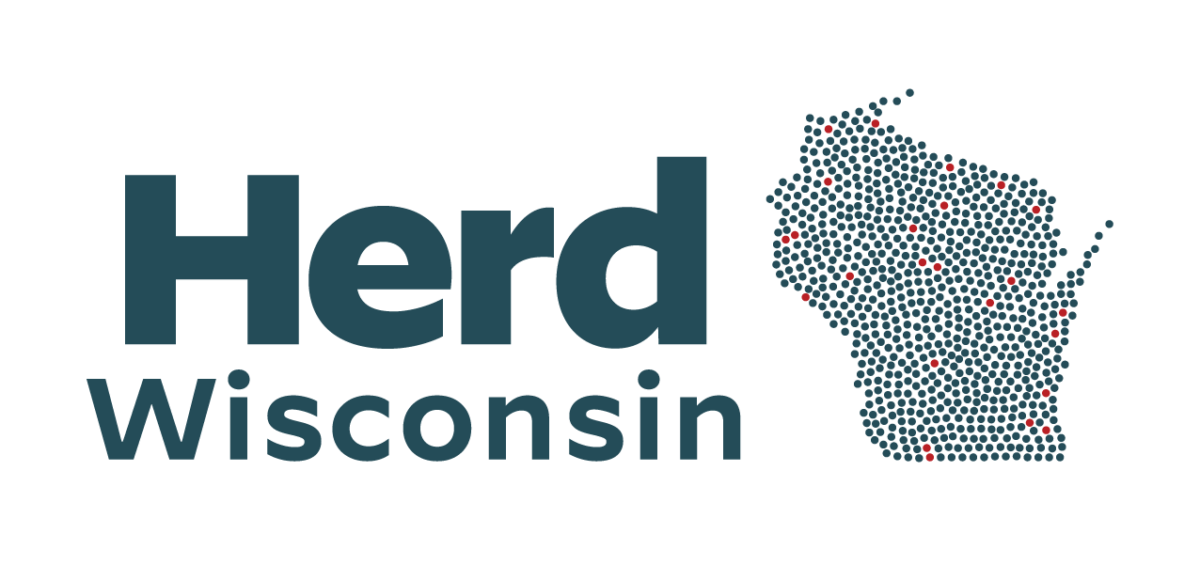 For the Herd Wisconsin logo, conveying this idea in the shape of a Wisconsin map is a powerful visual reminder that as a state, we're all in this together. It simply grabs the eye as a logo, too––it's instantly recognizable as our state, something with which we collectively identify.
Creating the website
Leading up to our Dirigible Mission day, Ryan drafted 40+ pages' worth of information on vaccinations. It's so clear that Ryan is impassioned and knowledgeable about this mission! The content included answers to common questions on immunization and explanations of the science behind vaccinating and community immunity.
We took the information that Ryan provided, punched up the language, and dropped it into web pages in bits and pieces designed to make the information accessible, interactive, and easy to engage. Then we chose photography, added a plugin for contacting legislators on the issue of immunization and put together a website using all these elements.
Mission, Complete
A fully functioning website, complete with logo and brand guide, up in under eight hours. It's amazing what it's possible to put together in a matter of hours! The website is already getting traction with community members, and discussions about potential future collaborations, culturally-specific components to the site, and other exciting developments, are already underway.
Dirigible Studio made it easy for me to realize my vision for Herd Wisconsin. The brand and website they developed have already helped me recruit others to this vital cause.

Ryan Bender, PharmD

Founder of Herd Wisconsin
*What's a "Dirigible Mission," you ask?
Well it's one full day of pro-bono marketing for a non-profit that Dirigible sets aside each year near the Thanksgiving holiday, a way of giving back to our community and saying "thanks." If you're a local non-profit interested in being the next Dirigible Mission, drop us a line at hello@dirigiblestudio.com, and sign up for our enewsletter — we'll be sending out a call for entries this summer.
Published on Nov 26 2019
Last Updated on Feb 20 2023
Categories: News